Pluto now has at least five moons. Can we go back to calling it a planet?
Long considered a planet, Pluto was reclassified as a 'dwarf planet' in 2006 by the International Astronomical Union. Will the discovery of a fifth moon prompt astronomers to reconsider?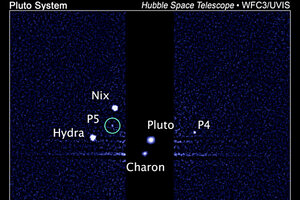 NASA/ESA/M. Showalter (SETI Institute)
Scientists on Wednesday (July 11) announced the discovery of a fifth moon orbiting Pluto in a major solar system find. But while many people think of moons as accessories for planets, like the Earth's moon or Jupiter's many moons, Pluto doesn't quite make the cut in the International Astronomical Union's (IAU) definition of "planet."
Despite of some determined lobbying by die-hard supporters to change its dwarf planet status, more moons around Pluto won't change its classification, experts say.
"Does it change the planetary status? Of course not," Michael Brown, an astronomer at the California Institute of Technology, wrote to SPACE.com in an email. Brown's discovery of Eris, a rocky object about the size of Pluto, was a major factor in the IAU's decision to reassess exactly what constitutes a planet.
The IAU ruled that to be called a planet, an object has to meet three conditions. It must orbit the sun without being another object's satellite, it must have enough gravity to make it sphere-shaped and it must clear the area around it of other objects. But even with Pluto's five moons, it doesn't "clear the neighborhood."
---