Are solar storms hazardous? It depends on how fast they move.
Studying the speed of particles in solar storms may help predict dangerous impacts: the slower the particles' speed, the higher the risk, say NASA scientists.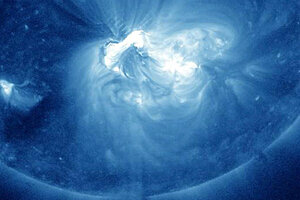 NASA/SDO/AIA
A new warning system that measures high-energy particles spewed from the sun during powerful solar storms may help scientists forecast the intensity of potentially harmful radiation when these solar tempests are aimed directly at Earth.
The warning system was developed by physicists at the University of Delaware in the U.S. and the Chungnam National University and Hanyang University in South Korea. For certain radiation levels, the system is designed to predict when incoming charged particles will be at their strongest point.
In some cases at lower energies, measurements from the space weather warning system may provide up to 166 minutes, or nearly three hours, of advance notice.
Solar eruptions unleash plasma and charged particles into space that can pose radiation hazards to satellites in orbit, astronauts in space and electronics infrastructure on Earth. Depending on the strength of the storm, these outbursts can cause radio blackouts, disrupt power grids and pose health risks to spaceflyers. During solar storms, airlines often reroute planes that would normally fly over Earth's polar regions as a precautionary measure.
---