Veteran crew en route to space station
A trio of experienced astronauts blasted off Saturday night from Kazakhstan's Baikonour Cosmodrome to join the crew aboard the International Space Station.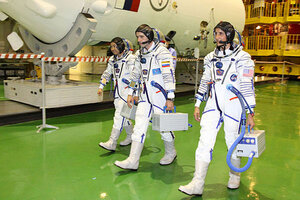 Victor Zelentsov/NASA
Three veteran space travelers from three different countries are gearing up to launch toward the International Space Station tonight (July 14) to begin a months-long mission to the orbiting laboratory.
NASA astronaut Sunita Williams, Russian cosmonaut Yuri Malenchenko, and Japan Aerospace Exploration Agency spaceflyer Akihiko Hoshide will lift off on the Russian Soyuz TMA-05M spacecraft at 10:40 p.m. EDT (0240 July 15 GMT) from the Baikonur Cosmodrome in Kazakhstan.
The three-person team will become part of the space station's Expedition 32 mission, and is due to stay for about four months.
"We're really excited to be getting closer and closer to our launch in July," Williams said during a press conference in March. "It's going to be a great mission, really exciting, lots of things to do. We're sort of like a family and we've got a couple other great crew members up onboard."
---