IQ test: Women are now scoring higher than men
IQ test: Women are now scoring higher in IQ tests than men, reports one of the world's foremost intelligence researchers.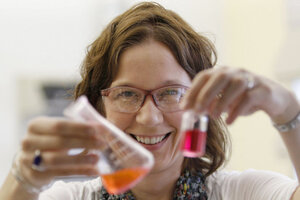 Steve Helber/AP
Are people getting smarter? According to the latest research, women sure are.
New research by intelligence expert James Flynn shows that women in the West have pulled ahead of men in IQ testing.
While both genders' IQ scores have improved over the last century, women's scores have risen faster and have now surpassed those of men.
Historically, women lagged slightly behind men on IQ tests, but over the last century, according to Flynn, an increase in IQ scores has been seen around the world. This long-term generational increase, first noted in the 1980s, is known as the "Flynn Effect."
Flynn, emeritus professor of psychology and philosophy at New Zealand's University of Otago, attributes the rise to modern living.
"Over the last 100 years, everyone in the developing world has been gaining about three IQ points, but women have been gaining faster," Flynn said in an interview with ABC News. "This is the result of modernity. In every country where women have an equal chance of modernity, women have caught men [in IQ testing]."
---