NASA promotes new rover landing with synthetic 'Mars rocks'
NASA is sending synthetic 'Martian' rocks to eight cities in its national 'Get Curious' campaign to promote the Curiosity Mars Rover, which is scheduled to touch down on the Red Planet on Aug. 6.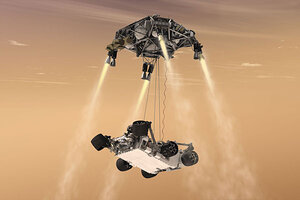 JPL-Caltech/NASA/AP
A set of synthetic Mars rocks will be making a national tour next week to promote the upcoming landing of NASA's giant new rover on the Red Planet.
The tour is part of a campaign called "Get Curious" that was created to honor the new Curiosity Mars rover, the main element of the Mars Science Laboratory mission, which is due to land on our neighboring world Aug. 6. The $2.5 billion rover is designed to spend at least two years on Mars searching for clues that Mars may have been habitable to life at some point.
"Get Curious" will send large boulders manufactured to look like Martian rocks to eight U.S. cities between July 26 and Aug. 9. No rocks have ever been brought back to Earth from the Red Planet, but these large synthetic constructions are designed to resemble the real thing as closely as possible.
The rocks will visit Atlanta; Austin, Texas; Boston; Detroit; Columbus, Ohio; Houston; Indianapolis; and Orlando.
---