Japanese spacecraft docks with Space Station
Unlike the recent failed Russian's test mission, a robotic Japanese spacecraft successfully docked with the International Space Station Friday.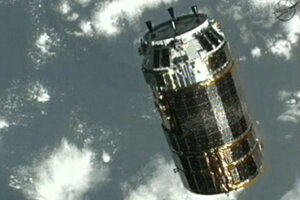 NASA TV
The HTV-3 Japanese cargo spacecraft was successfully captured with the International Space Station's Canadarm 2 robotic arm, and then installed to a docking port. JAXA astronaut Aki Hoshide berthed the HTV supply ship, called Kounotori3, or "white stork," at 14:19 GMT (10:19 EDT) on July 27, 2012 to the Earth-facing side of the Harmony node on the ISS.
Below is a timelapse of the capture and berthing provided by SpaceVids.

Earlier, working from the robotic workstation inside the station's cupola, NASA Flight Engineer Joe Acaba, with the assistance of Hoshide, captured the 16.5-ton cargo ship with the station's Canadian Space Agency-provided robotic arm, and as the spacecraft flew within about 12 meters (40 feet) of the ISS.
The unmanned cargo ship is 10 meters (33 feet) long and 4 meters (13 feet) in diameter and is capable of delivering both internal and external supplies and hardware to the station.
The name Kounotori was chosen because it the ship's arrival represents an important delivery. The space station crew later opened the hatches and began the process of removing about 3,175 kg (7,000 pounds) of supplies from inside the Kounotori3's Pressurized Logistics Carrier. That cargo includes food and clothing for the astronauts, an aquatic habitat experiment, a remote-controlled Earth-observation camera for environmental studies, a catalytic reactor for the station's water regeneration system and a Japanese cooling water recirculation pump.
---