Curiosity's Mars landing on track, say scientists
NASA's Curiosity is scheduled to land on Mars on Sunday. A dust storm and a wobble have added complexity to the mission, but scientists say, 'we will get there and get there safely.'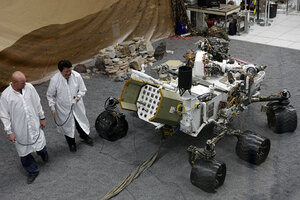 AP Photo/Damian Dovarganes
A dust storm on Mars and a minor wobble in the spacecraft's trajectory have given scientists something to think about, but leaders of NASA's Curiosity mission said Thursday that they are on track for a Sunday landing — the delivery of the largest and most ambitious machine ever sent to another planet.
"Things are almost too quiet," Pete Theisinger, the mission's project manager, said Thursday at the Jet Propulsion Laboratory in La Canada Flintridge as Curiosity barreled toward Mars at 7,987 mph. "I'm waiting for the other shoe to drop."
Curiosity, a roving lab that will scour Mars for the ingredients of life, is scheduled to land Sunday in an ancient geological feature known as the Gale Crater. It is a complex operation. At 1,982 pounds, Curiosity is five times heavier than previous Mars rovers. Its landing requires a dizzying sequence of pyrotechnics and on-the-fly adjustment, all done automatically because Mars is 154 million miles distant, too far for the swift communication needed to guide the landing from Earth.
At a briefing Thursday, scientists said satellites had discovered a dust storm swirling south of Gale Crater. Earlier this week, the storm was more than 600 miles from Curiosity's landing site but large enough that it could kick up a pesky cloud of dust.
In theory, that could affect the accuracy of Curiosity's landing mechanism, but scientists said the craft had been engineered to guard against nasty weather and that storms like this are common and typically dissipate in a day or two. To pose a real threat, Theisinger said, "it would have to be the great-grandmother of all dust storms."
---