How to escape from a black hole
Escaping from a black hole is easy, as long as you're an elementary particle, say physicists.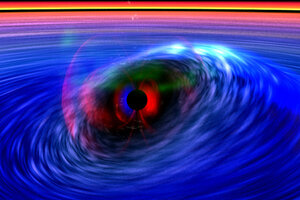 NASA
If most people know one thing about black holes, they probably know that nothing can escape from them, not even light.
Yet this most basic tenet about black holes has actually been disproven by the theory of quantum mechanics, explains theoretical physicist Edward Witten of the Institute for Advanced Study in Princeton, NJ, in an essay published online today (Aug. 2) in the journal Science.
Black holes, in the classical picture of physics, are incredibly dense objects where space and time are so warped that nothing can escape from their gravitational grasp. In another essay in the same issue of Science, theoretical physicist Kip Thorne of Caltech describes them as "objects made wholly and solely from curved spacetime."
Yet this basic picture appears to contradict the laws of quantum mechanics, which govern the universe's tiniest elements.
"What you get from classical general relativity, and also what everyone understands about a black hole, is that it can absorb anything that comes near, but it can't emit anything. But quantum mechanics doesn't allow such an object to exist," Witten said in this week's Science podcast.
---