Mars mission: Rover Curiosity poised to enter red planet's atmosphere
At mission control, nothing to do now but watch and wait, as the rover and its descent module near Mars' atmosphere and begin to feel the pull of gravity. So far, everything is on track for early-Monday landing.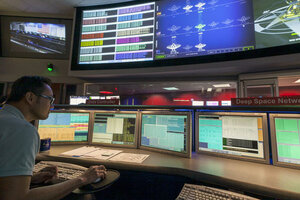 Damian Dovarganes/AP
With less then 36 hours left in its eight-month journey to Mars, NASA's robotic explorer Curiosity is in excellent health and on track for a pinpoint encounter with Mars' atmosphere – one that will put it on a path to land on the bottom of Gale Crater at 1:31 a.m. Eastern Daylight Time Monday.
That's the latest assessment from mission managers as the 1-ton rolling chemistry lab and the rocket stage ferrying it begin to feel the tug of Mars' gravity.
The goal of the Mars Science Laboratory (MSL) mission is to look for geological evidence that the crater, and especially the 3-mile-high mountain inside it, might have been capable of hosting life early in the planet's history, when Mars was wetter and warmer than it is today.
For all the excitement – and no small amount of trepidation – as entry hour approaches, time is slowing down somewhat for controllers, acknowledges Richard Cook, deputy project manager for the mission.
On July 30, the rover and descent module shifted to the MSL's equivalent of autopilot. Once reentry begins, events will happen too quickly for humans to intervene, especially given the 14-minute, one-way travel time for radio signals between Earth and Mars. So the craft and its unique reentry system are virtually on their own. Absent any Earth-sent command for a last-minute course correction on Sunday, if needed, it's hands off at mission control at NASA's Jet Propulsion Laboratory.
"Usually when you get to the last day, there's not that much to do other than to wait," says Dr. Cook, who cut his teeth on Mars lander and rover missions as mission manager for the Mars Pathfinder mission, which successfully placed the rover Sojourner Truth on the red planet in 1997. Since then, he's played a key role in the Mars Exploration Rover mission, which sent the rovers Spirit and Opportunity to Mars.
---