NASA's Mars program riding on a rover heading for touch down
The one-ton Mars rover named Curiosity is set to land on the red planet at around 1:31 am Eastern time.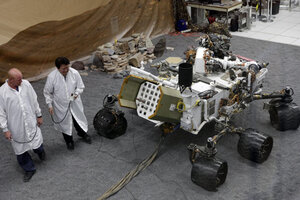 Damian Dovarganes/AP/File
In less than eight hours, the world will witness either the greatest feat yet in the history of solar-system exploration or another humbling reminder that, yes, it is hard to land spacecraft on Mars.
If all goes well, mission managers anticipate touchdown of NASA's one-ton rover Curiosity at around 1:31 a.m. Eastern Daylight Time Monday, or around 3 p.m. local Mars time.
The goal of the $2.5 billion mission is to explore Gale Crater and its central peak, informally known as Mt. Sharp, for evidence that the area may once have been capable of supporting life.
One measure of the mood at NASA's Jet Propulsion Laboratory in Pasadena, Calif., comes from Adam Steltzner, the lead mechanical engineer for the Mars Science Laboratory's unique descent and landing system.
"We're rationally confident, emotionally terrified, and we're ready" for entry, descent, and landing of Curiosity, he says.
Indeed, the traditional touches that indicate entry is imminent have cropped up among members of the flight team, notes Brian Portock, the Mars Science Laboratory (MSL) mission manager. Mission control is loaded for bear with the requisite supply of peanuts for the flight team. One engineer overseeing communications links has grown his version of a play-off beard. And a flight director known for unique hair styles during missions is sporting a stars-and-stripes theme, on majority vote of his colleagues: a mohawk tinted with red and blue on top and with the hair remaining on the sides of his head cut into stars, Mr. Portock said during the final pre-entry status briefing on Sunday.
---