Mars rover aces social networking, but will it inspire study of science?
The rover Curiosity, with nearly 900,000 Twitter followers, had a strong Internet presence even before its launch to Mars. Scientists hope this will lead to more student interest in science – and more funding.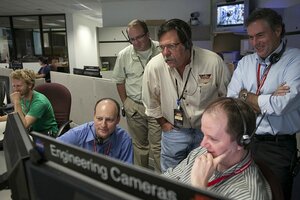 Damian Dovarganes/AP
As the 1-ton, six-wheeled Curiosity rover scours the Martian surface over the next 23 months (one Mars year), its main mission is to search for traces of possible life on the red planet. But beyond that, many hope it will inspire a new generation to look to the stars – and to learn the science and engineering needed to get there.
Scholars who evaluate the state of science education worry that the United States is falling behind and not preparing students for a future that will depend more on scientific and technological skills. But some experts hope that the popularity of this Mars mission, one of the first major NASA expeditions with a wide social media presence, could boost interest in science and technology.
The Curiosity rover and its dramatic landing procedure captured the public eye, at least for now. Nearly 1,000 people gathered in New York's Times Square on Sunday night to watch the footage from NASA's Jet Propulsion Laboratory (JPL), chanting "NASA," "Space," and even "USA, USA, USA!"
They are still figuring out the exact numbers, but it seems that almost 4.5 million people watched the landing on TV and that more than 3.2 million streamed it over the Internet, according to David Seidel, deputy education director for the JPL. Curiosity has more than 240,000 Facebook "likes" and close to 900,000 Twitter followers. Its closest NASA-built rival, Phoenix Mars Lander, currently has about 212,000 followers.
---