What will future Mars missions look like?
Following the successful landing of NASA's Curiosity Mars rover, amid deep budget cuts the agency is drafting a 20-year plan for the Red Planet.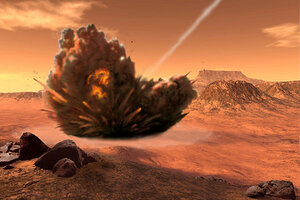 Ron Miller/Arizona State University
As NASA's Curiosity rover prepares to get its wheels in motion on Mars, the space agency is set to issue a new look at where exploration of the Red Planet could go in the years and decades to come – based on the theme "Seeking the Signs of Life."
The report, stemming from a Concepts and Approaches for Mars Exploration meeting in Houston in June, is headed for a late August/September release. Former veteran NASA program manager Orlando Figueroa has been leading the appraisal under the wing of a newly established Mars Program Planning Group (MPPG), which was tasked with reformulating the agency's Mars Exploration Program.
The planning group is taking a look at how NASA will continue exploring Mars beyond the missions currently operating today, which now includes the Curiosity rover. The $2.5 billion Mars rover Curiosity landed on the Red Planet on Aug. 5 (PDT) in a flawless touchdown. The flagship rover, which is already beaming home amazing photos of Mars, is expected to spend two years exploring Mars' Gale Crater to determine if the region could have ever supported microbial life.
Recently, deep cuts in NASA's budget for Mars led to the shakeup in the space agency's plans for robotic exploration. Another factor behind the new report is the overlapping requirements of NASA's long-range plan to dot the Red Planet with human footprints.
Deep budget cuts, new tech
---