Researchers spot apes fashioning advanced tools
A pair of bonobos have a knack for stone drills, shovels, and other tools, suggesting that humanity's last common ancestor with the chimplike animals were also toolmakers.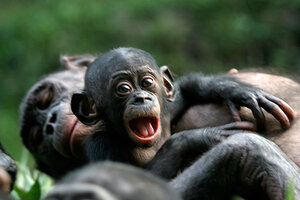 Vanessa Woods/Duke University/AP
The great apes known as bonobos can make stone tools far more varied in purpose than previously known, reaching a level of technological competence formerly assigned only to the human lineage, according to researchers.
These findings may shed light on the mental capabilities of the last common ancestor of humans and these apes, scientists added.
Bonobos are, with chimpanzees, humanity's closest living relatives. Together bonobos and chimps are part of the group Pan, just as modern humans and extinct species of humans make up the group Homo.
Chimpanzees are well-known tool-users, capable of fashioning spear-like weapons from branches for hunting and using stones as hammers and anvils in the wild. Although bonobos in the wild are not known for tool use, in captivity they have shown remarkable capabilities with stone tools. For instance, in the 1990s, researchers taught the male bonobo Kanzi and the female Pan-Banisha how to knap flint -- that is, strike the rocks together to create tools -- and use the resulting stone flakes to cut rope to open a box and to cut leather to open a drum for food.
Now scientists reveal that in the intervening years, by practicing on their own, Kanzi and Pan-Banisha have developed a broader stone tool kit for more complex tasks, making them at least a match with chimpanzees in tool use.
The researchers challenged Kanzi and Pan-Banisha to break wooden logs and to dig underground, tests similar to tasks the apes might have to carry out to get food in the wild. To break the logs -- an act similar at cracking open bones to get at marrow -- the scientists not only saw these apes use rocks as hammers or projectiles to smash their targets, but also observed them either rotating stone flakes to serve as drills or use the flakes as scrapers, axes or wedges to attack slits, the weakest areas of the log. To root into hard soil, these bonobos used both unmodified rocks and a variety of handmade stone tools as shovels.
---