Which telescopes could lose out in astronomy's big budget crunch?
Federal budget pressures in the US could force the organization that runs publicly funded observatories to divest itself of six telescopes. The list points to new priorities in astronomy.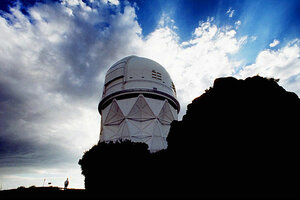 David Sanders/Arizona Daily Star/AP/File
For astronomers in the United States it's déjà vu with a wrenching twist – the possible closure of some of the most heavily used observatories the federal government funds.
In 1995, the prospect of flat federal science budgets prompted calls to privatize or close workhorses such as the Kitt Peak Observatory near Tuscon, Ariz. That would ease the squeeze on other big-ticket observatory projects in the pipeline, the argument went.
Seventeen years later, telescopes at Kitt Peak, which avoided previous appointments with a broker, are again the budgetary bulls-eye.
This time the fiscal picture is far more bleak, and the projects in the pipeline are more ambitious. Thus, a panel advising the National Science Foundation (NSF) has recommended that the agency writing the checks for publicly supported observatories divest itself of six facilities as quickly as possible over the next four years.
The goal is to ensure enough federal research dollars to allow the US to participate in high-priority observatory projects through the end of the decade and have enough money left to supply research grants astronomers and their grad students need to use the new telescopes.
---