How a cartoonist raised $1 million (and counting) for a Tesla museum
Matthew Inman, a cartoonist who runs theoatmeal.com, posted a tribute titled "Why Nicola Tesla is the Greatest Geek Who Ever Lived.'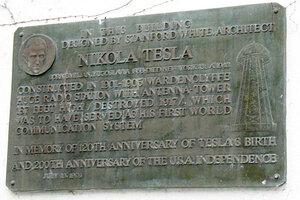 (AP Photo/Tesla Science Center at Wardenclyffe)
A jolt of support from a popular Web cartoonist has re-energized a decades-long effort to restore a decrepit, 110-year-old laboratory once used by Nikola Tesla, a visionary scientist who was a rival of Thomas Edison and imagined a world of free electricity.
In little more than a week, tens of thousands of donors from more than 100 countries have kicked in more than $1 million through a social media fundraising website to pay for the restoration of Tesla's Wardenclyffe laboratory, located about 65 miles (105 kilometers) east of New York City. A small band of followers who have struggled to establish a science and research museum and learning center in Tesla's honor are giddy with delight about the lightning-quick response they have received.
RECOMMENDED: Are you scientifically literate? Take the quiz
"Enormously, overwhelmingly, astounding," is how Jane Alcorn, president of the Tesla Science Center at Wardenclyffe and a retired school librarian, described her feelings about the project's newfound fortune. The not-for-profit formed about 17 years ago had managed to secure a state matching grant of $850,000 but had amassed only about $50,000 for the project. Its goal at times seemed insurmountable.
Then this summer Alcorn learned that Matthew Inman, a cartoonist who runs theoatmeal.com, posted a tribute to the scientist titled "Why Nicola Tesla is the Greatest Geek Who Ever Lived." Supporters of the Long Island effort reached out to Inman, a 27-year-old who lives in Seattle, and he and Alcorn began speaking.
---