Curiosity rover's Twitter feed displays moxie, gumption
The official Twitter feed of NASA's Curiosity Mars rover has proven wildly popular, thanks in large part to the pluck, spunk, grit, and bravura of the tweets themselves.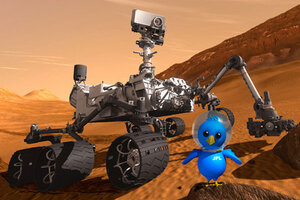 NASA/JPL-Caltech
Two days after NASA's rover Curiosity landed on Mars, comedian Steve Martin joked on Twitter that he was launching his own Mars mission to upstage NASA.
"I sneezed on it before blast off. I hope that's okay," he wrote Aug. 8.
Curiosity's cheeky response: "Oh, Steve. That's snot ok. We have rules about that." The tweet linked to a website on NASA's planetary protection rules, which aim to prevent other worlds from being contaminated by Earth microbes.
In general, the @MarsCuriosityTwitter feed strives for a tone of bravura befitting the biggest and best rover ever sent to the Red Planet, said Veronica McGregor, one of three voices in what NASA calls the "hive mind" behind the account. McGregor, Stephanie L. Smith and Courtney O'Connor carefully craft the voice of Curiosity to broadcast to its more than 1.1 million followers, including the celebrities who tweet at it, ranging from Britney Spears to Richard Branson. [Curiosity Team Spoofed In Hilarious Viral Video]
The Curiosity Facebook pagealso saw its audience expand tenfold in the week after landing, to 337,000 "likes."
"We hoped it would get big," McGregor told SPACE.com.
Reporters and the public
Of course, "big" presents pressures of its own. Among Curiosity's followers are a hungry pack of journalists and bloggers fighting to report news as soon as it is available. The craftier reporters also follow other accounts from the Mars rover team, such as Scott Maxwell's @marsroverdriverfeed.
The challenge for NASA is balancing the demand for speedy information with its desire to have spokespeople available to speak about the results. Other employees at NASA are often privy to sensitive data before its release and will allude to results on their Twitter feeds while saving the actual news for official agency announcements.
---