What is it like to live on Mars time? One family finds out.
The family of David Oh, a flight director for NASA's Curiosity Mars rover mission, opted to join him in synching their lives to the Martian day, which is about 40 minutes longer than the Earth day.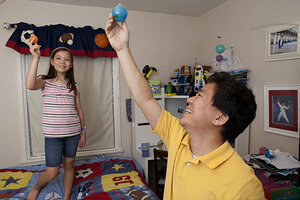 Damian Dovarganes/AP
David Oh's eldest son taped aluminum foil over his windows. His daughter painted a sign warning visitors away from the front door. His wife pulled the phone cord out of the wall and turned the couple's cellphones off.
David's time on Earth had come to a temporary end — and he was taking his family with him.
As soon as the rover Curiosity dropped onto the Martian surface on Aug. 5, David and hundreds of his fellow scientists and engineers at NASA's Jet Propulsion Laboratory switched from Earth time to Mars time.
As the lead flight director for the Mars Science Laboratory team, David would sync his life up with the rover's for the first 90 Martian days of the Curiosity mission. It may not be rocket science, but it's quite an undertaking.
A Mars day, called a sol, is 39 minutes and 35 seconds longer than a 24-hour day on Earth. That small difference adds up fast, so that noon becomes midnight after 21/2 weeks. As scientists wind up sleeping during the day and working through the night, their lives pull away from those of their families.
Not the Oh clan. For the first month, all five stuck together, an idea championed by David's wife, Bryn.
"This project for six years has been so much a part of his life," she said at the family's tidy two-story home in La Canada Flintridge. "This was a way that I thought that we could be a part of it."
The family has learned a lot about Southern California since their experiment began, talking to friendly folk in a Canoga Park bowling alley at 4 a.m. and gawking at late-night partygoers while eating dinner at dawn at Fred 62 in Los Feliz.
They've discovered the Hollywood sign isn't lit at night and that the sand on Santa Monica's moonlit shores is still the perfect temperature for walking barefoot. They've noticed that freeway traffic bottoms out at 3 a.m., then starts to pick up again just an hour later.
---