On ocean floor, a shrimp that vomits light
A shrimp that spews glowing chemicals is one of the many discoveries made by a team of scientists investigating bioluminescence at the bottom of the Caribbean Sea.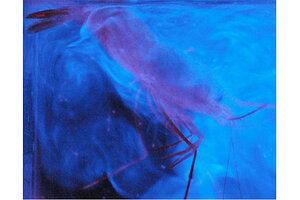 Image courtesy of Bioluminescence Team 2009, NOAA-OER.
From glowing coral to shrimp that vomit light-making chemicals, seafloor creatures can create quite the flashy visual show, according to researchers who traveled into the inky depths of the Caribbean Sea to investigate the oddballs.
Even so, the researchers reported today (Sept. 6) seafloor creatures are less flashy than their open-ocean cousins. In the open sea, an estimated 90 percent of organisms have the capacity to glow, compared with a paltry 10-20 percent of seafloor dwellers.
"We were surprised by how little bioluminescence is down there," Tamara Frank, a marine ecologist at Nova Southeastern University and study coauthor, told LiveScience.
The researchers did, however, find an abundance of bioluminescence from plankton, creatures that cannot swim against a current and instead glow bluish after bumping into other organisms and structures.
The glowers at the ocean bottom included the world's first identified glow-in-the-dark anemone along with a shrimp species that vomits light as a defense mechanism, glowing coral, starfish and sea cucumbers. [See Photos of the Glowing Deep-Sea Creatures]
---