Crab species on ocean floor has ultraviolet vision, say researchers
A crab living in darkness at the bottom of the Caribbean Sea is sensitive to blue and ultraviolet light, an adaptation that researchers think helps it spot food that bumps against glowing plankton.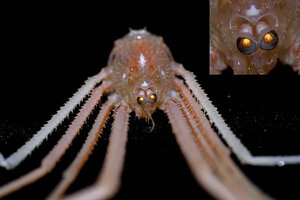 Image courtesy of Bioluminescence Team 2009, NOAA-OER
What good is color vision in the dark of the deep sea? For some crabs, an ability to see blue and ultraviolet light may mean the difference between chowing down on a good meal versus a toxic one.
A new study published today (Sept. 6) in the Journal of Experimental Biology finds that some seafloor, or benthic, crabs can see in color. But the crustaceans live in darkness of the deep Caribbean where sunlight does not penetrate, making their sensitivity to blue and ultraviolet light mysterious.
The reason for the color vision, however, may be explained by the concurrent discovery of bioluminescent deep-sea plankton in this environment, which glow blue when they bump against objects along the seafloor. It's possible that the crabs see this blue glow as a sign of a hearty meal, said study researcher Tamara Frank, a biologist at Nova Southeastern University in Florida.
At the same time, the ability to see blue and UV light would also enable the crabs to tell the difference between bioluminescent blue plankton and the dim greenish glow given off by the anemones where the crabs like to perch. [Photos: Glowing Creatures of the Caribbean]
"They just hang out in these plantlike things, and every so often — they have these amazingly long claws — they reach over and they're clearly picking something off and bringing it to their mouths," Frank told LiveScience.
---