Facebook gets results? 2010 vote experiment worked, scientists say.
More than 61 million Facebook users unknowingly participated in the study, which sought to measure the ability of online social networks to catalyze actions in the real world.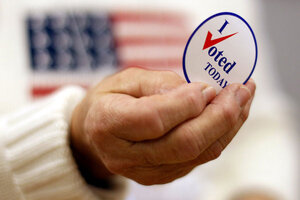 Robert F. Bukaty/AP
If you logged onto your Facebook account on Nov. 2, 2010, saw a cluster of familiar faces on your "wall" whose owners indicated that they voted, and it rousted you out of your chair for a trip to the polls, thank political scientist James Fowler and six colleagues for the poke.
The nonpartisan go-vote messages, with links to sites showing local polling places and the appearance of voting "friends" on Facebook walls were part of an experiment involving 61 million "subjects" on Facebook. The goal of Dr. Fowler's team was to gauge the ability of on-line social networks to convey messages that affect real-world actions.
The answer: They certainly can, at least for voting. And the most effective means of steering the behavior of a large group appears to involve highlighting the actions of friends with whom an on-line network member is most likely to have a real-world, face-to-face relationship.
The results of the experiment are being published in Thursday's issue of the journal Nature.
"The network is the key," says Fowler, a researcher at the University of California at San Diego whose work focuses on social networks and their influence on fields ranging from public health and politics to personal tastes.
"If we want to make the world a better place on a massive scale, we should focus not just on changing a person's behavior, but also on utilizing the network to influence that person's friends," says Fowler, who led the study.
---