Curiosity rover makes contact with a Mars rock named 'Jake'
The next stop for the Mars rover: an intriguing mystery rock in the Mars Yellowknife sector that has the ability to retain daytime heat long into the night.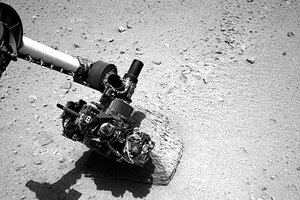 REUTERS/NASA/JPL-Caltech
The Curiosity rover has reached out and made personal contact with a Martian rock. Last week, the Mars rover team decided to inch closer to the nearby rock, believed to be a good bet for first-ever tests of Curiosity's "contact instruments," according to NASA.
The rock, like so much else within Curiosity's purview, has been given a name: Jake Matijevic. Matijevic was a legendary engineer at JPL who recently died, said the rover project's Ashwin Vasavada in an interview Monday with the Los Angeles Times.
"In the last few days, the rover has been analyzing Jake Matijevic," Vasavada said. "After searching for a few days, we found this rock that had all the characteristics necessary to cross-compare the measurements from our arm-mounted instruments with those of the mast-mounted instruments."
The Curiosity Twitter account put it more simply: "I did a science!"
So said the photo from @MarsCuriosity posted Saturday afternoon on Twitter showing first contact.
RECOMMENDED: Are you scientifically literate? Take the quiz
The arm-mounted Alpha Particle X-Ray Spectrometer and the "mast-mounted, laser-zapping" Chemistry and Camera Instrument are expected to be used for examining Jake, according to NASA, which will then cross-check results from the two instruments.
Next?
"The next near-term objective is to find a patch of loose soil that will be used to test our scooping ability and to clean off our sampling tools," said Vasavada, deputy project scientist with the Curiosity team.
Meanwhile, the team keeps the larger Martian picture in clear sight.
---