International space station veers to avoid space junk
The ISS will move to a new orbit Thursday to avoid a possible collision with a fragment of debris. Over 21,000 pieces of space junk larger than a softball are estimated to be circling the planet.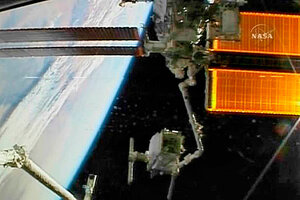 REUTERS/NASA /File
The Russian space program's Mission Control Center says it will move the International Space Station into a different orbit to avoid possible collision with a fragment of debris.
Mission Control Center spokeswoman Nadyezhda Zavyalova said the Russian Zvevda module will fire booster rockets to carry out the operation Thursday at 07:22 a.m. Moscow time (0322 GMT).
The space station performs evasive maneuvers when the likelihood of a collision exceeds one in 10,000.
RECOMMENDED: Are you scientifically literate? Take the quiz
NASA estimates that more than 21,000 fragments of orbital debris larger than a softball 10 centimeters (3.9 inches) are stuck in earth's orbit, and experts worry that orbiting junk is becoming a growing problem for the space industry.
As Space.com notes: "Inactive satellites, the upper stages of launch vehicles, discarded bits left over from separation, and even frozen clouds of water and tiny flecks of paint all remain in orbit high above Earth's atmosphere. When one piece collides with another, even more debris is released. Over 21,000 pieces of space trash larger than 4 inches (10 centimeters) and half a million bits of junk between 1 cm and 10 cm are estimated to circle the planet. And the number is only predicted to go up."
---