Chemistry Nobel could lead to drugs with fewer side effects
The US scientists who received the Nobel Prize for Chemistry were able to map how cells detect and respond to chemicals they encounter.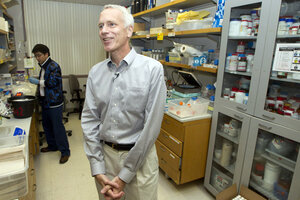 Norbert von der Groeben/Reuters
Two US researchers have been awarded the Nobel Prize in Chemistry for uncovering and mapping a key mechanism used by cells to detect and respond to the presence of hormones and other chemicals they encounter, a mechanism seen as vital to the pharmaceutical industry's development of new drugs.
The prize, which carries an 8 million krona ($1.2 million US) purse, was given to Robert Lefkowitz of Duke University in Durham, N.C., and the Maryland-based Howard Hughes Medical Institute, and to Brian Kobilka of Stanford University in Palo Alto, Calif.
The two were awarded for work on a family of proteins embedded in cell walls that detect the presence of a hormone such as adrenaline outside a cell, then conduct that information through the cell wall to a protein switch inside that touches off a cell's response.
The cellular sensors, dubbed G-protein-coupled receptors (GPCRs), help coordinate "an orchestrated response from billions of individual cells that make up our bodies" as the cells respond to an outside stimulus, said Sven Lindin, chairman of the committee awarding the chemistry prize. One such stimulus: the startling, raucous appearance of a ghoul at a Halloween haunted house.
The receptors have become prime targets for new drugs to treat a range of diseases, he added at a press conference on Wednesday announcing the award. By some estimates, roughly half of all the drugs used today rely on GCPRs as pathways for affecting the cells of interest. Armed with a knowledge of the receptor molecule's unique pattern of folds when it's triggered, he adds, pharmaceutical companies are working to develop new drugs that have fewer side effects.
---