Dragon capsule reaches space station, chocolate ripple ice cream intact
SpaceX's Dragon capsule delivered cargo including a little ice cream to the International Space Station Wednesday, confirming that a new era for NASA has finally been realized.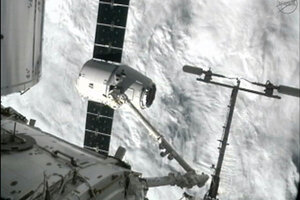 NASA/AP
The International Space Station welcomed its first commercial resupply mission Wednesday with the arrival of Space Exploration Technologies' Dragon capsule.
Dragon is laden with scientific gear, replacement parts for the space station, and a welcome shipment of chocolate ripple ice cream stashed in an otherwise empty lab freezer the capsule carried up.
The capsule, which launched Sunday night atop SpaceX's Falcon 9 rocket, reached the orbiting outpost about 15 minutes ahead of schedule. Using the station's robotic arm, Akihiki Hoshide, a station flight engineer, snagged Dragon at 7:56 a.m. Eastern Daylight Time. A little over an hour later, Dragon was safely docked with the station.
"Looks like we've tamed the dragon," said station commander Sunita Williams when the arm initially captured the capsule.
"We're happy she's on board with us," she said, adding a special shout-out for the ice cream.
The mission marks an important milestone for NASA along a path first set out under the Bush administration and confirmed by President Obama. After the space shuttle Columbia disaster in February 2003, NASA has pivoted to focus on sending humans beyond low-Earth orbit, while it has steered the job of ferrying supplies and astronauts to the space station to private companies.
---