Hurricane Sandy: Were government warnings confusing?
Though the consensus is that forecasting of Hurricane Sandy was accurate, some criticize the way the message was conveyed. The National Hurricane Center will review decisions it made relating to this storm later this month and early next year.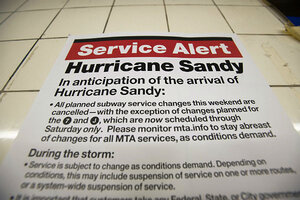 REUTERS/Keith Bedford
The first predictions of the monster storm that slammed into the East Coast of the United States came nearly a week before Sandy made landfall on Monday, giving state and local officials ample notice to issue warnings and make preparations for the threat.
But in the aftermath of the storm that left a swath of destruction across 15 states and cut power to more than 8 million people, some meteorologists question the federal government's decision not to issue hurricane or tropical storm warnings for Sandy north of the Carolinas.
"I think the meteorological community as a whole did a very strong job on this storm," said Marshall Moss, vice president for forecasting at AccuWeather, a private forecasting company based in Pennsylvania.
Preparations were made, evacuations were called for, and "many, many lives were saved," Moss said in an interview on Thursday.
But AccuWeather and others are criticizing the decision by the National Oceanic and Atmospheric Administration's National Hurricane Center (NHC) not to issue hurricane warnings for Sandy north of North Carolina.
To some, the rationale was semantic. Because Sandy was merging with a winter storm, when it reached land it would no longer be considered a tropical storm.
So, instead of issuing hurricane warnings, Sandy was handled with a series of high wind and flood warnings through local National Weather Servoce offices.
---