Leonid meteor shower late tonight: Stay up, bundle up, look up
The Leonid meteor shower peaks tonight in the first of what may be two viewing climaxes this year. The sky at 3 a.m. Eastern time will be moonless, as long as you can see it. Face east.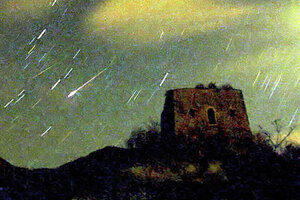 (AP Photo/Xinhua, Li Jundong)
Grab the chaise lounge, a thermos of hot chocolate, and a blanket or two – the Leonids are coming to a night sky near you tonight.
Or, more precisely, the peak of this well-known meteor shower is coming. The annual event is predicted to climax around 3 a.m. Eastern Standard Time Saturday. But at least one forecaster, Russian astronomer Mikhail Maslovof, is predicting a second peak at around 1 a.m. Eastern time on Nov. 20.
Weather permitting, viewing conditions should be good, since the moon will have long-since set. Which is too bad, in a way, because it's presenting only a thin sliver of itself, making it possible to see the Earth's glow faintly reflecting back from the dark portion of the lunar surface.
The meteor shower gets its name from the constellation Leo – the apparent region of origin for the display. But the tiny bits of space debris that are heated to incandescence as they enter Earth's atmosphere actually come from Comet Tempel-Tuttle, a clump of rubble and ice about a mile across that orbits the sun every 33 years.
The comet last made its closest approach to the sun, when it sheds dust and gas most profusely, in 1998. This led to some spectacular showers between 1999 and 2002 that sent as many as 3,000 objects an hour hurtling through the atmosphere.
This weekend's display is expected to be decidedly more modest, with perhaps as many as 10 meteors an hour Saturday morning, and as many as 15 an hour Tuesday morning – a rate comparable to other Leonid showers in more recent years. Astronomers estimate that the comet shed the material for Tuesday's encounter in AD 1,400.
The best places to view the show are in locations with little light pollution from cities or towns. At the time the shower peaks, the Leonids' apparent point of origin will be about 55 degrees above the eastern horizon. That's a bit more than halfway between the horizon and straight up, or zenith.
Bundle up and find your spot far enough in advance to allow your eyes to adjust to the dark. Your eyes become fully adapted to viewing in the dark after about 20 or 30 minutes. And if you take a flashlight, cover the lens in red cellophane to speed the process of dark-adapting once you switch off the light.
---