New smell discovered: It's 'olfactory white' as in white noise
New smell discovered: Scientists have created a 'white smell,' a 40-compound blend of scents in the middle of the pleasant-edible scale. The new smell was discovered by scientists in Israel.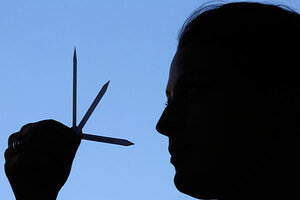 REUTERS/Eric Gaillard
Scientists have discovered a new smell, but you may have to go to a laboratory to experience it yourself.
The smell is dubbed "olfactory white," because it is the nasal equivalent of white noise, researchers reported Monday (Nov. 19) in the journal Proceedings of the National Academy of Sciences. Just as white noise is a mixture of many different sound frequencies and white light is a mixture of many different wavelengths, olfactory white is a mixture of many different smelly compounds.
In fact, the key to olfactory white is not the compounds themselves, researchers found, but the fact that there are a lot of them.
RECOMMENDED: Are you scientifically literate? Take the quiz
"[T]he more components there were in each of two mixtures, the more similar the smell of those two mixtures became, even though the mixtures had no components in common," they wrote.
White smell
Almost any given smell in the real world comes from a mixture of compounds. Humans are good at telling these mixtures apart (it's hard to mix up the smell of coffee with the smell of roses, for example), but we're bad at picking individual components out of those mixtures. (Quick, sniff your coffee mug and report back all the individual compounds that make that roasted smell. Not so easy, huh?)
---