Moon rocks discovered in Minnesota, but more rocks missing
The Minnesota National Guard said it found some missing Apollo 11 moon rocks. The discovery in Minnesota now leaves 11 states, including Massachusetts, Texas and Wisconsin, still missing their Apollo 11 moon rocks.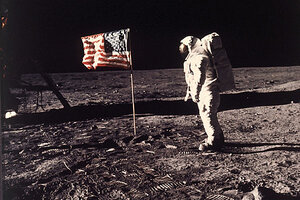 (AP Photo/Neil Armstrong, NASA, File)
Houston, we have moon rocks.
The Minnesota National Guard said Monday it found a few small fragments of the moon's surface in storage in a state building in St. Paul. They'll be turned over to the state Historical Society on Wednesday.
The moon rocks came from the Apollo 11 moon landing in 1969, when astronauts Neil Armstrong and Buzz Aldrin became the first humans to set foot on the moon. Some of the rocks, pebbles and dirt they collected have gone missing after U.S. states and territories and 135 countries each got tiny samples encased in plastic. Authentic moon rocks are considered national treasures and can't legally be sold in the U.S.
RECOMMENDED: Are you scientifically literate? Take the quiz
Minnesota's moon rocks disappeared sometime after then-President Richard Nixon gave them to the state, along with a state flag that was carried on the mission.
---