Are polar ice sheets shrinking? Report offers definitive answer at last.
Numerous studies in recent years have offered different – and sometimes conflicting – views about ice sheets in Greenland and Antarctica. But a new report offers unprecedented scope.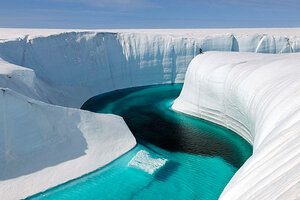 James Balog/Extreme Ice Survey/AP/File
A team of scientists has combed through 20 years of data to arrive at what it says is the first comprehensive report on how much ice Greenland and Antarctica are losing as the global climate warms – and how much this trend has contributed to sea-level rise.
Previous studies, done over certain parts of these regions and over various time periods, had led to disagreement concerning these questions. Some studies showed catastrophic ice loss, and others showed a small net gain.
The team reporting in Friday's issue of the journal Science says that when these data are synthesized and looked at holistically, as this report does, the apparent contradictions disappear and a single picture emerges.
The fuller picture suggests that, collectively, the ice sheets that cover Antarctica and Greenland are now losing three times as much ice each year as they did in the 1990s. All told, they lose about 344 billion tons of ice annually – about in the middle of previous estimates.
These losses push up sea levels about 1 millimeter (0.04 inches) a year. Since 1992, the trend has contributed 11 millimeters (0.43 inches) to sea-level rise – about 20 percent of total sea-level rise during that time, the team says.
Scientists say it will take years to develop models that can forecast how sea levels will fare by the end of the century.
---