Mars rover Curiosity soil analysis: why no news still isn't bad news
The Mars rover Curiosity has finished its first full soil analysis in Gail Crater, and its findings are consistent with those elsewhere on the planet. Researchers say the results form a 'baseline.'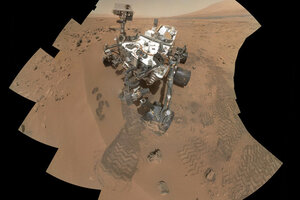 NASA/AP
NASA's Mars rover Curiosity has finished its first full-scale analysis of the surface soil in Gale Crater, and while researchers have yet to find definitive evidence pointing to organic compounds that would signal ancient habitats, they did find something else they were looking for: soils that look pretty much like soils other rovers and landers have analyzed elsewhere on the planet.
At first blush, spending $2.5 billion and traveling more than 350 million miles to find more of the same may seem like a bit of overkill. But training the full suite of Curiosity's instruments on something fairly well known during what is still the rover's shakedown period represents an important opening move in the rover's mission, researchers say.
During its two-year prime mission, the one-ton, Mini Cooper-sized lab on wheels aims to see if its new home – Gale Crater with its towering central peak, Mt. Sharp – once may have been hospitable to simple forms of life. Finding and analyzing any organic compounds in the mountain's ancient layers represents the ultimate prize in that quest.
The soil analysis establishes a relatively modern reference against which the chemical and mineral makeup of Mt. Sharp's far-more ancient land forms can be compared.
---