Odd meteorite could be time capsule of a wetter Mars
Scientists have analyzed a meteorite found on Earth and suggest that it could come from Mars's crust at a time when the planet was still wet and volcanically active.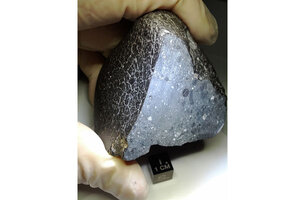 Carl Agee/University of New Mexico/AP
An unusual meteorite plucked from the Moroccan desert holds the potential to open a window on a critical period in the history of Mars, when the planet was undergoing a dramatic change from warm and wet – conditions potentially hospitable to life – to cold, dry, and desolate.
Unlike any Martian meteorite scientists have studied so far, the new object, tagged as NWA 7034, has a composition similar to the planet's crust. Indeed, the sample is similar to rock and soil samples seen by rovers Spirit and Curiosity – the first time scientists have been able to link a meteorite to rocks analyzed on the surface of the red planet, according to a team from the US and China formally reporting its results in Friday's issue of the journal Science.
It is the 2 billion-year-old meteorite's volcanic origin and its apparent interactions with water and the atmosphere at or near the Martian surface that may have turned it into such an intriguing a time capsule.
"Having this sample from 2 billion years ago may give us a little bit of a glimpse of what the surface conditions were like" during a poorly understood period in Mars's history, says Carl Agee, the team's leader and director of the Institute for Meteoritics at the University of New Mexico in Albuquerque.
---