White veins of Mars: Curiosity hits 'a jackpot' in quest for wetter past
Curiosity rover has found mineral-filled fissures in the rocks of Gale Crater on Mars. Together with other evidence, the minerals suggest that the rocks were once 'saturated with water.'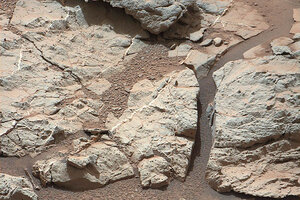 MSSS/JPL-Caltech/NASA/REUTERS
White veins of minerals coursing through rocks on the floor of Mars's Gale Crater are providing some of the strongest evidence yet that the rover Curiosity's landing site once was a wetter, warmer place.
The details are still fuzzy. But the composition of the minerals indicate that they precipitated out of water flowing through fissures in the rock, while large grains within the rocks themselves are rounded, suggesting that water might have dulled their sharp edges.
Yellowknife Bay, the rocky expanse Curiosity currently inhabits, "is literally shot through with these fractures," says John Grotzinger, a geologist at the California Institute of Technology in Pasadena., Calif., and the mission's chief scientist.
It also features abundant, berry-shaped spherules that scientists say are sedimentary concretions formed in and worked over by water.
All together, "basically these rocks were saturated with water," Dr. Grotzinger explained during a briefing Tuesday outlining the rover's latest exploits.
Yellowknife Bay represents "a jackpot unit," he added. Initially, researchers thought they might have to drive Curiosity up on the shoulders of Mt. Sharp, a towering summit in the middle of the crater, to find such a trove.
If Curiosity made these finds on Mt. Sharp, "we would have been absolutely thrilled," Grotzinger says.
---