Time to retire chimps in US research labs?
Scientists have a proposal to retire all but 50 research chimpanzees kept in US federal labs. The primates would be sent to 'Chimp Haven,' a new chimp sanctuary in Louisiana. Animal rights activists applaud the move.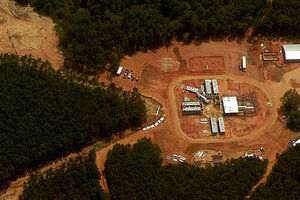 (AP Photo/Chimp Haven, Naomi Lopez-Bauman)
Government scientists have agreed that all but 50 of hundreds of chimpanzees kept for federally funded research should be retired from labs and sent to a national sanctuary.
The proposal from a National Institutes of Health committee also said all of the chimps should have plenty of room to play and climb.
The NIH Council of Councils Working Group on Tuesday approved the proposal, which also calls for major cuts in grants to study chimps in laboratories and no return to breeding them for research.
Already, nine chimpanzees arrived Tuesday at Chimp Haven outside Shreveport, La., from the University of Louisiana at Lafayette's New Iberia Research Center, which no longer has an NIH chimp research contract. Seven more are expected Thursday and another 95 will arrive over the coming months, sanctuary officials said.
The federal agency said in 2011 that it would phase out most invasive research on chimpanzees. The new 86-page recommendation describes how chimpanzees should be kept and what will be needed for any future research. Chimps should be used only if there is no other way to study a threat to human health, and the research should be approved by an independent committee with members from the public, said the Council of Councils proposal, which will be sent to the NIH's director after a 60-day public-comment period.
Animal-rights activists said they were pleased by the recommendations.
"At last, our federal government understands: A chimpanzee should no more live in a laboratory than a human should live in a phone booth," the People for the Ethical Treatment of Animals said in a statement.
Chimp Haven was created on 200 acres of a Caddo Parish park in Keithville in northwest Louisiana.
"We should see more than 300 chimpanzees getting moved to the federal sanctuary system," said Kathleen Conlee, the Humane Society of the United States' vice president for animal research issues.
---