Mass extinction? Man may still have time to catalog Earth's species.
A trio of respected biologists and zoologists concludes that Earth's sixth mass extinction may be unfolding slower than feared, giving time for the valuable work of cataloging the planet's species.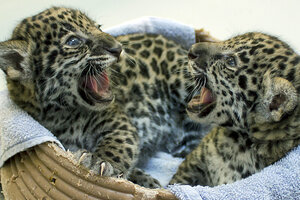 Milwaukee County Zoo/AP
For years, ecologists and biologists have warned that the planet is sliding into a mass extinction event comparable to the one that did in the dinosaurs 65 million years ago.
But Earth's species may not be vanishing as fast as previously believed – providing a fresh opportunity to catalog and conserve more of them before global warming and habitat loss take a higher toll on the planet's biodiversity.
That's the conclusion a trio of respected biologists and zoologists has reached after reviewing recent studies on extinction, the pace at which new species are being reported, estimates of undiscovered species, and the human and technological capital available for building the catalog.
When it comes to discovering and preserving biodiversity, "things aren't hopeless," says Mark Costello, a University of Auckland marine zoologist and the lead author of the analysis, which appeared in this week's issue of Science.
Three years ago, another, larger team of biologists and zoologists estimated that if collectively countries devoted $500 million to $1 billion a year to the project of cataloging nonbacterial life on Earth, the project could be complete within 50 years.
Dr. Costello and colleagues renew that call. And their lower estimate of the number of species and a higher estimate of the people available than many thought implies the job could be done more quickly.
The stakes are high, many researchers say. Human population growth and activities – from altering landscapes and oceans to altering climate – are widely seen as the drivers behind the current mass-extinction event, the planet's sixth.
---