The dung beetle as celestial navigator
Only humans, birds, and seals are known to navigate using stars. But the dung beetle does use the Milky Way to chart its path, say scientists.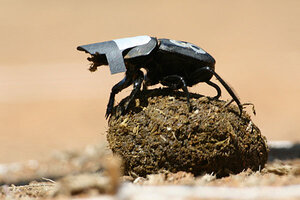 REUTERS/Marcus Byrne/University of the Witwatersrand
Despite having tiny brains, dung beetles are surprisingly decent navigators, able to follow straight paths as they roll poo balls they've collected away from a dung source. But it seems the insects' abilities are more remarkable than previously believed. Like ancient seafarers, dung beetles can navigate using the starry sky and the glow from the Milky Way, new research shows.
"This is the first time where we see animals using the Milky Way for orientation," said lead researcher Marie Dacke, a biologist at Lund University in Sweden. "It's also the first time we see that insects can use the stars."
After locating a fresh pile of feces, dung beetles will often collect and roll away a large piece of spherical dung. Last year, Dacke and her colleagues discovered the beetles climb on their dung balls and dance around in circles before taking off. This dance is not one of joy, however; the insects are checking out the sky to get their bearings.
"The dorsal (upper) parts of the dung beetles' eyes are specialized to be able to analyze the direction of light polarization — the direction that light vibrates in," Dacke told LiveScience. So when a beetle looks up, it's taking in the sun, the moon and the pattern of ambient polarized light. These celestial cues help the beetle avoid accidentally circling back to the poo pile, where other beetles may try to steal its food, Dacke said. [Photos of Dung Beetles Dancing on Poop Balls]
---