Earth-buzzing asteroid: Big enough to level a city, it was found by amateurs
Asteroid 2012 DA14 will set a record when it zips by within 17,000 miles of Earth next week. The 150-foot object was discovered by a team of dedicated amateur astronomers in southern Spain.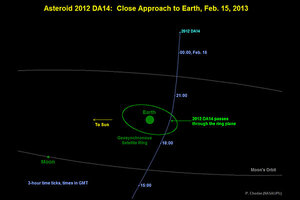 NASA/JPL-Caltech
The solar system is sending Earth a fleeting Valentine's greeting in the form of asteroid 2012 DA14, which makes a whisker-close (cosmically speaking) approach on Feb. 15.
The rocky asteroid, which measures roughly 150 feet across, is predicted to pass within 17,000 miles of Earth's surface, slipping below the 22,236-mile altitude where major weather and communications satellites operate, but well above low-Earth orbit, where the International Space Station and the vast majority of satellites hurtle around the planet.
Its close encounter with Earth is expected to shift its orbit enough to shave 51 days off of its current 368-day orbital period.
Asteroid specialists note that the object presents no threat to either Earth or satellites, although for the record, experts currently calculate a 1 in 7.5 million chance it could strike our planet in February 2110.
Next week's fly-by represents a record – the closest that a known object of this size has buzzed the planet, according to Paul Chodas and Don Yeomans, astronomers at NASA's Jet Propulsion Laboratory who study asteroids and the potential hazards they pose.
Objects in this size class come this close about once every 40 years, on average, and collide with Earth at an average rate of one every 1,200 years, they say.
Such an event wouldn't be a civilization buster, but it could put a world of hurt on a major metropolitan area, suggests Bruce Betts, director of projects for the Planetary Society in Pasadena, Calif.
---