Cosmic rays' mysterious origin? Supernovae to blame, study confirms.
A team of researchers found the 'unique, smoking-gun signature' of the creation of cosmic rays in the expanding shells cast off by supernovae.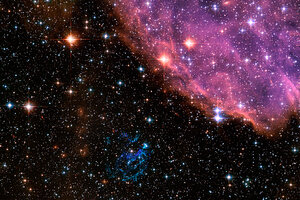 NASA, ESA, the Hubble Heritage Team (STScI/AURA) and J. Green (University of Colorado, Boulder)
A century after an Austrian scientist discovered evidence for galactic cosmic rays, an international team of researchers has traced their source to exploded stars.
Such stars, known as supernovae, had previously emerged as prime suspects for generating cosmic rays – something of a misnomer, since galactic cosmic rays are protons that have been accelerated to nearly the speed of light.
But tracing these particles back to their sources is nearly impossible. Protons carry an electrical charge, so magnetic fields they encounter in their travels can deflect them. This can turn what might have been a straight-line path into a torturous one with lots of wide detours.
Using the Fermi Gamma-ray Space Telescope, researchers instead have detected gamma-ray emissions that are a byproduct of collisions between these turbocharged protons and their sluggish counterparts. The acceleration of these highly-energetic protons and the hapless subatomic crash dummies they hit appear inside the thin shell of material an exploding star casts into space.
Until now, the source of galactic cosmic rays has been one of the biggest unsolved puzzles in particle astrophysics, says Stefan Funk, at the Kavli Institute for Particle Astrophysics and Cosmology at the SLAC National Accelerator Laboratory in Menlo Park, Calif.
But data gathered from two supernova remnants over four years carry "a unique, smoking-gun signature that now, for the first time, provides incontrovertible evidence" that these expanding shells, known as supernova remnants, are accelerating protons, he says.
---