Bees use the 'force' to choose the best flowers, study finds
Bees can alter the electrical charge of the flowers they touch. A new study finds that bees use these electrical cues to help them choose flowers with the most nectar and pollen.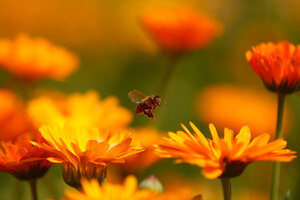 Vasily Fedosenko/Reuters/File
If you're a bee having a hard time finding that flower trying to tell you it's loaded with nectar and pollen, use the force, bee, use the force.
For the first time, scientists have demonstrated that the interaction of charges that can build up naturally on bees and plants plays a role in helping the insects find the best flowers to nourish themselves and the hive.
Bees have long been known to use color, shape, patterns, and odor to identify their their floral targets. The new study, conducted by researchers at the University of Bristol in Britain, suggests that bees also use electrical cues. Based on the results, the researchers suggest that if bees approach a flower and sense a disturbance in the "force," they know another bee has beat them to the blossom.
From a bee's perspective, electrical cues are another tool that enables more-efficient foraging. The flower also benefits, according to University of Bristol biologist Daniel Robert, who oversaw the study.
"The last thing a flower wants is to attract a bee and then fail to provide nectar," he said in a prepared statement. Bees quickly learn which flowers are productive and which aren't. The ones that aren't are less likely to get visits and have their pollen spread to other flowers for reproduction. The electrical cues they receive from the flowers may represent a "come back later" signal.
Bees' ability to sense and respond to plants' electrical fields "is a remarkable finding, " says Mark Winston, a biologist at Simon Fraser University in Burnaby, B.C., and the author of a book on bee biology.
---