Drones: Not just for war anymore?
Drone warfare isn't going anywhere, but drone utility could be growing. Marc Lallanilla, assistant editor at Live Science, proposes eight "totally cool" new uses for drones.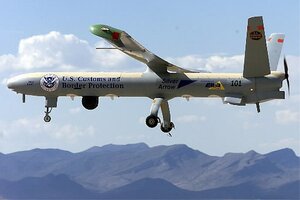 John Miller / AP
Just a few years ago, drones, or unmanned aerial vehicles (UAVs), were virtually unknown.
But the remote-controlled aircraft have stealthily slipped over the horizon and are now causing a buzz from Capitol Hill in Washington, D.C., to the rain forests of Sumatra.
"I am convinced that the domestic use of drones to conduct surveillance and collect other information will have a broad and significant impact on the everyday lives of millions of Americans," Sen. Patrick Leahy, chairman of a Senate Judiciary Committee looking into drone legislation, said on Thursday, March 21, CNN reports.
There's little doubt that UAV technology is here to stay, but their use isn't limited to cloak-and-dagger operations and military technology. Here are eight totally cool ways the drone can be your friend:
Real estate sales
Daniel Gárate had a lucrative career as a UAV videographer, using his $5,000 drone to capture stirring images of high-end properties for the Los Angeles real-estate market — until the Los Angeles Police Department shut him down, declaring that commercial uses for drones were not allowed, the New York Times reports.
That's no longer the case, since a federal law signed in 2012 opened drone technology to commercial applications. Gárate, who also uses drones to take videos for commercials, has also been approached to take paparazzi-style photos of celebrities like Kim Kardashian, the Times reports.
---