Veterinarians try artificial insemination on Giant Panda at National Zoo
Mei Xiang, the Giant Panda at the National Zoo was artificially inseminated Saturday after she and the zoo's male giant panda failed to breed naturally.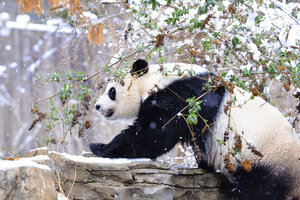 Connor Mallon/Smithsonian's National Zoo/Reuters
Veterinarians at the National Zoo artificially inseminated the zoo's female giant panda Mei Xiang on Saturday after natural breeding failed to occur, zoo keepers said.
Mei Xiang was put under general anesthesia and inseminated with a combination of fresh semen and frozen semen collected from the zoo's male giant panda Tian Tian. The scientists said they planned a second insemination later on Saturday.
Veterinarians detected a rise in hormone levels on Tuesday, indicating Mei Xiang was ready to breed but said "no competent breeding" between the panda pair had occurred.
---