Global warming mystery: Are North and South really polar opposites?
Two studies, one about plants covering previously frozen landscapes in the Arctic, the other about expanding winter sea ice in Antarctica, appear to say different things about global warming.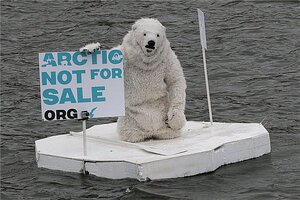 Mikhail Metzel / AP
The amount of land in the high Arctic covered by trees and upright shrubs could increase by as much as 52 percent by midcentury, warming the region to levels climate scientists had previously not expected to see there until 2100.
That's the take-home message from a new study that looks at statistical ties between climate and vegetation types to estimate how the Arctic's landscape could change with global warming. The impact of the vegetation changes on the region's climate not only would be felt at lower latitudes through changing atmospheric circulation patterns, researchers say. The changes also would affect the range and types of wildlife in the area and the livelihoods of the Inuit who rely on the wildlife for food.
The results are appearing just as a new study from the bottom of the world offers an explanation as to why warming in Antarctica might appear to some people to be on hold, given a 20-year trend of expansion in winter sea ice.
Taken together, the two studies highlight the ways in which human-triggered warming averaged over the entire planet can play out in unique ways in specific regions of the globe – in this case, two regions that play a critical role in Earth's climate system as "sinks" for heat generated in tropics.
At the top of the world, warming at the surface has occurred at nearly twice the rate of warming as the world as a whole. Some studies indicate that the winter temperatures have been rising at least four times faster than the summer temperatures. This warming has brought trees and woody, upright shrubs to areas once dominated by tundra.
Previous studies of the impact of a greener Arctic on the region's climate indicated the trend would reinforce warming.
On the one hand, a green canopy could shade soils once the snow melts, keeping them cooler than they otherwise would be and slowing the release of CO2 from soils. But a darker canopy also would capture and reradiate heat – warming the air earlier in the spring and slowing the return of cold temperatures in the fall. In addition, during the growing season, trees give off water vapor, a potent greenhouse gas, through a process known as evapotranspiration. This also would tend to reinforce warming in the region.
---