NASA's big decision: Build a moon base or lasso an asteroid?
NASA and lawmakers disagree over the future of human spaceflight. NASA has its sights set on an asteroid landing, while legislators want a permanent moon base.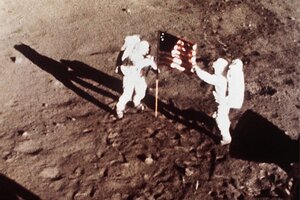 NASA / AP
While NASA's proposed budget for 2014 unveiled this week reaffirms the space agency's ambitious plan to send astronauts to an asteroid, some members of Congress are pushing for a more familiar goal: a moon base by 2022.
President Barack Obama's federal budget request for 2014, released Wednesday (April 10), gives NASA $105 million to jump-start a bold plan to park an asteroid near the moon. Astronauts would then explore the space rock using the agency's Space Launch System rocket and Orion capsule, with the first visit perhaps coming as early as 2021.
The proposed "Asteroid Initiative" lines up with the manned spaceflight priorities of the Obama Administration, which three years ago cancelled NASA's moon-oriented Constellation program and directed the agency to get astronauts to an asteroid by 2025, then on to the vicinity of Mars by the mid-2030s.
But some lawmakers contend that the moon should still be NASA's immediate human spaceflight target. They have reintroduced a 2011 bill called the RE-asserting American Leadership in Space Act (or REAL Space Act for short), which asks NASA to send astronauts to the moon by 2022 with the goal of establishing a long-term settlement there.
"The moon is our nearest celestial body, taking only a matter of days to reach," Rep. Bill Posey (R-Fla.) said in a statement Wednesday. "In order to explore deeper into space — to Mars and beyond — a moon presence offers us the ability to develop and test technologies to cope with the realities of operating on an extraterrestrial surface."
---