Giant snail invasion forces Floridians to walk for their lives
The African giant land snail, a notorious invasive species, is attempting to establish itself in Florida, say officials.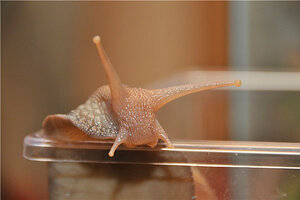 Florida Department of Agriculture Division of Plant Industry/Reuters/Handout/File
As big as a rat and with a taste for building materials, the African giant land snail is proving to be a slow-moving disaster for the Sunshine State.
Originally from Kenya and Tanzania, the gigantic gastropod is a notorious invasive species, having already established itself throughout Africa, China, India, many Pacific islands, the Caribbean, and Hawaii. The first reported sighting came in September 2011, and since then, according to Reuters, officials in Miami-Dade have caught some 117,000 snails, at a rate of about 1,000 per week.
That rate, which gives a new definition to the term "snail's pace," is likely to increase in the coming weeks, as the state's rainy season begins and the snails emerge from underground hibernation.
In addition to dining on a wide range of plants – more than 500 varieties, according to the Florida Department of Agriculture and Consumer Services – the massive mollusks also gnaw through stucco, plaster, and even concrete, which contain calcium that the snails need to grow their shells.
---