New Kepler exoplanets 'best candidates' for hosting life
Data from NASA's planet-hunting Kepler mission has revealed two small, potentially rocky planets within their star's habitable zone.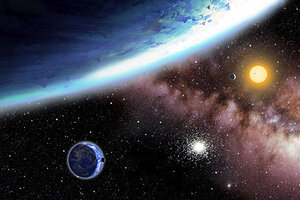 Harvard Smithsonian Center for Astrophysics/AP
This might be the most exciting exoplanet news yet. An international team of scientists analyzing data from NASA's Kepler mission has found a planetary system with two small, potentially rocky planets that lie within the habitable zone of their star. The star, Kepler-62, is a bit smaller and cooler than our Sun, and is home to a five-planet system. Two of the worlds, Kepler-62e and Kepler-62f are the smallest exoplanets yet found in a habitable zone, and they might both be covered in water or ice, depending on what kind of atmosphere they might have.
"Imagine looking through a telescope to see another world with life just a few million miles from your own. Or, having the capability to travel between them on a regular basis. I can't think of a more powerful motivation to become a space-faring society," said Harvard astronomer Dimitar Sasselov, who is co-author of a new paper describing the discovery.
Kepler-62 in the constellation Lyra, and is about 1,200 light-years from Earth.
62e is 1.61 times Earth's size, circles the star in 122.4 (Earth) days. 62f is 1.4 times the size of Earth, and orbits its star in 267.3 days. Previously, the smallest planet with known radius inside a habitable zone was Kepler-22b, with a radius of 2.4 times that of the Earth.
A third planet in another star system was also announced at a press briefing today. Kepler-69c is 70 percent larger than the size of Earth, and orbits in the habitable zone of a star similar to our Sun. Researchers are uncertain about the composition of Kepler-69c, but astronomer Thomas Barclay from the BAER Institute said its closer orbit of 242 days around a Sun-like star means it is likely more like a super-Venus rather than a super-Earth.
---