Comet of the century? ISON has 'potential' to be visible all day.
As sun-grazing comet ISON approaches the sun, it's getting progressively brighter – and might even flare into a dazzling object bright enough to be visible in broad daylight.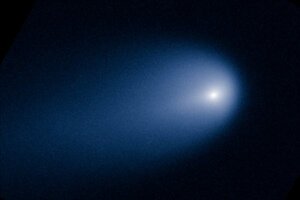 NASA Hubble telescope / Courtesy of NASA / Reuters
An exceptional comet flying ever closer to the sun may offer an amazing naked eye sight to Earth dwellers this fall as it gradually brightens.
As comet C/2012 S1 (ISON) continues to approach the sun, it is slowly responding to the increasing warmth of the sun and getting progressively brighter. The comet is getting considerable scrutiny from both amateur and professional scientists because it's a rare sungrazing comet, destined to approach to within 730,000 miles (1.17 million kilometers) of the surface of the sun on Nov. 28. Because of this extremely close approach, comet ISON holds the "potential" to flare into a dazzling object — possibly becoming bright enough to be briefly glimpsed in broad daylight.
Still, at this early stage in the comet's development, we can't be sure if this will actually happen.
A Swift look
Although still quite far from the sun and very faint, the comet has been imaged by two orbiting observatories. Astronomers from the University of Maryland at College Park and Lowell Observatory used NASA's Swift satellite to check out the comet during January and February. Using images acquired from Swift's Ultraviolet/Optical Telescope, the team was able to make initial estimates of the comet's water and dust production and then used these values to determine the size of ISON's icy nucleus.
These observations revealed that each minute ISON was shedding about 56 tons (51,000 kg) of dust, or about two-thirds the mass of an unfueled space shuttle. Jets powered by sublimating ice also release dust, which reflects sunlight and brightens the comet.
---