Are 3-D printers worth it?
You can build nearly anything in 3-D, thanks to the increasingly affordable 3-D printers. That raises interesting new questions for designers and hobbyists.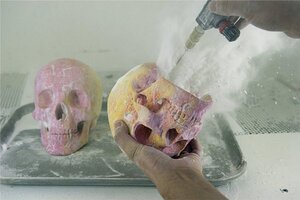 Mary Knox Merrill / The Christian Science Monitor
If you could make anything you want, what would it be? That's the challenge 3-D printing poses to consumers. But that open-ended question is also a challenge for 3-D printing. Do consumers know what they want, and do they care enough and have the patience to make it?
Home devices such as the MakerBot Replicator and print-to-order companies like Shapeways and Sculpteo can take an idea and make it physical — limited to plastic in the former case but extending to ceramic, plaster, stainless steel and even silver in the latter. Still, you must have the idea to start with.
That's no problem for "makers" — the new hip, high-tech name for hobbyists and home inventors. If you want to design and build a gadget, replace an out-of-stock mechanical part or even create your own jewelry, 3-D printers make it possible and affordable as old technology never could have.
"When you have a MakerBot it makes sense to make anything you want," said Bre Pettis, founder of MakerBot, a company that transformed 3D printers from industrial devices to (somewhat) affordable desktop gadgets. Its flagship MakerBot Replicator 2 sells for $2,199.
And the makers have been busy. MakerBot's Thingiverse site hosts more than 80,000 digital design files that people can download to print anything from toys to tools. They can even tweak the designs in MakerBot's free MakerWare application.
"So that's the beauty of Thingiverse.com," Pettis told TechNewsDaily. "If somebody has an idea and they make it, they can share it, and the whole world benefits." (However, designs for weapons and any illegal items are not allowed.)
---