Water on Mars: The secret's in the pebbles
Curiosity rover found rocks made of smooth, round pebbles, adding to the growing pile of evidence for water flowing across the surface of Mars. To smooth the pebbles, they must have bounced along in a stream between 4 inches and 4 feet deep, scientists say.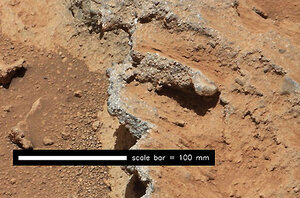 Courtesy of Malin Space Science Systems / NASA
Mars Rover Curiosity Finds Pebbles Likely Shaped by Ancient River
By: Denise Chow
Published: 05/30/2013 02:06 PM EDT on SPACE.com
Smooth, round pebbles found by NASA's Mars rover Curiosity provide more evidence that water once flowed on the Red Planet, according to a new study.
The Curiosity rover snapped pictures of several areas with densely packed pebbles, and by closely analyzing the rock images, researchers discovered that the shapes and sizes of the individual pebbles indicate that they traveled long distances in water, likely as part of an ancient riverbed.
The rocks were found near Curiosity's landing site, between the north rim of Gale Crater and the base of Mount Sharp, a peak that rises 3 miles (5 kilometers) above the crater floor.
Round and smooth
Scientists divided a photo mosaic of an area called Hottah into smaller frames to study the small rocks, which were cemented together and ranged in size from 0.08 inches (2 millimeters) to 1.6 inches (41 mm) across. In total, the researchers examined 515 stones and noticed that their surfaces were round and smooth.
Rocks worn by wind are typically rough and angular, whereas stones in water tend to become smooth over time, as the rocks get churned around with coarse grains of sand.
"We could see that almost all of the 515 pebbles we analyzed were worn flat, smooth and round," study co-author Asmus Koefoed, a research assistant at the Niels Bohr Institute at the University of Copenhagen in Denmark, said in a statement.
---