Solar plane on trans-US flight: It's about 'pioneering spirit,' pilot says
Solar Impulse, the first human-piloted solar aircraft able to operate day or night, was flying from Dallas to St. Louis Monday, aiming to make the trip in about 21 hours.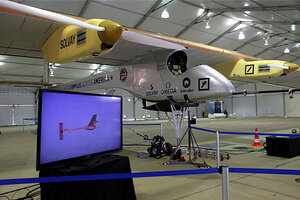 Rodger Mallison / Star-Telegram / AP
Somewhere in the skies between Dallas and St. Louis, a spindly aircraft fueled by photons from the sun was winging its way Monday eastward on a transcontinental flight and into aeronautical history.
The plane, Solar Impulse, has the wingspan of a Boeing 747, the weight of a Chevy Volt, 10-horsepower electric motors to spin its four props, and nearly 12,000 solar cells providing the juice.
Although Solar Impulse is not the first solar-powered aircraft to carry a human, it's the most ambitious. With batteries that store power for night flight, the craft is the first human-piloted solar aircraft able to operate day or night.
The team's ultimate aim is a 2015 flight around the world.
Indeed, this mission is giving ground crews, pilots, the team's weather forecasters, and mission control in Switzerland experience in dealing with complex flight conditions over complex terrain at continental scales – the kind of conditions they will face as they try to circumnavigate the globe around the Northern Hemisphere, says Andre Borschberg, one of the mission's two pilots and chief executive officer of Solar Impulse.
"It's training for everyone," he says.
But the project's overall goal is not to find new ways to transport people.
"The goal is really to transport a message about [the] pioneering spirit, about innovation, about the clean technologies our world so badly needs today," said Bertrand Piccard, pilot of Monday's leg of the trip, in an in-flight interview with the St. Louis Public Radio Monday morning.
It's the third of five legs in a cross-country odyssey that began May 3 at NASA's Moffett Field in Mountain View, Calif., at the southern tip of San Francisco Bay. The trip is scheduled to make an additional stop at Dulles International Airport outside of Washington in mid-June before its final leg takes it to New York's JFK Airport in early July.
Solar Impulse is not for the impatient. It's the kind of aircraft that would earn you frequent-flier hours, rather than frequent-flier miles.
---