Comet Lovejoy survives boiling brush with Sun, does victory dance
Comet Lovejoy's unlikely trip close to the sun's surface has given scientists a wealth of new information about our sun.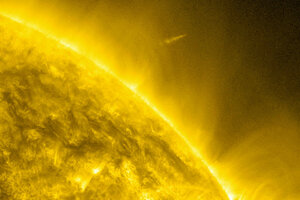 AP/NASA's Solar Dynamics Observatory
This was not a tale that should have had a happy ending. When Comet Lovejoy sped into the Sun's corona in 2011, scientists did not expect the daredevil to survive. Astronomers had already tracked 2,000 similar comets making the same inadvisable trip. None had made it, all melting into the sun's super-hot glow.
But Lovejoy did live – and it is now telling scientists new tales about our sun.
"It's absolutely astounding," says Karl Battams, of the Naval Research Lab in Washington DC, in a press release. "I did not think the comet's icy core was big enough to survive plunging through the several million degree solar corona for close to an hour, but Comet Lovejoy is still with us."
Not only did Lovejoy survive its sunny jaunt – it began to dance. Or rather, its tail started to wiggle.
Now, in a new paper published in Science, scientists detail what they learned about our sun as they watched the wily comet's veritable suicide mission.
Comet Lovejoy, known to scientists as C/2011 W3, passed within just 87,000 miles of the sun's surface for two days in December 2011. When it did, the comet began to evaporate in the sun's scorch, leaving behind a tail-like trail of material that scientists could observe from multiple perspectives by using five different spacecraft. As the comet's tail began to wiggle in a seeming victory dance, the scientists fed data from their multiple perspectives on the show into a computer that created a magnetohydrodynamic model of the sun's atmosphere.
---