New 'time cloak' conceals data so well, even its recipients can't read it
Scientists have discovered how to cloak information so that it appears to have never been sent at all, offering hopes of eventual ultra-secret communications schemes.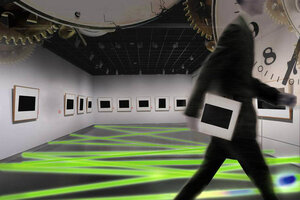 Heather Deal/AP/Cornell University
It sounds like a spectacular failure: this new technology works less than half the time and only for half the parties involved.
But a paper published in Nature today announces that scientists have found a way to unreliably send out communications hidden so well that even their intended recipients can't detect that they've been sent. It is a stunning development in a previously mostly theoretical effort to develop Star Trek-like ultra-secure communication systems.
"The once fanciful invisibility cloak has now assumed a prominent place in scientific research," according to the paper, authored by researchers at Purdue University.
The possibility that communications could be folded into a 'time cloak' was first proposed in a 2010 paper. In that paper, lead author Martin W. McCall proposed a theoretical "space-time cloak" that "conceals events rather than objects," borrowing light manipulating technology from prototype invisibility clocks to hide the event of sending the message.
That differs from current encryption technology, which conceals the information from unwanted readers but not the actual event of sending the information. Ill-intentioned spies, though unable to read the message, can then tell that a deliberately encrypted message was sent out, a telltale sign that the parties have something to hide.
---